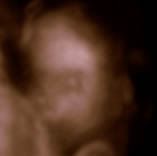 I think I must be devoting too much time to myspace, and ignoring my blogspot. In fact, I haven't added a word here since finding out in Rome about my pregnancy (for those who don't know, yes, we were shocked to learn in a hospital in Rome that we were 2 months pregnant. Shocked being an understatement considering the specialist told us in December that it just wasn't going to happen.)
So, here we are. We found out nearly 2 months ago that we are having a boy, most likely the end of August, and for sure by C section. Apparantly not built for having babies, but that's okay. Gotta get him out somehow. We have done the nursery in a South Pacific/Castaway type of style, with all black furniture. A few people have said it looks a lot like the illustrations in "Where the Wild Things Are", and they are right. I was lucky enough to have a great group of girlfriends come up and help me paint the murals.
On the downside, the pregnancy isn't really agreeing with my body. My gallbladder has stopped functioning, which is very painful at times but nothing can be done about it until we have him. Also diagnosed with sciatica. Then there are my stress levels, which even though I DON'T FEEL STRESSES, the hormone levels are there and are much too high so I have been told to take it easy and cut back on work. Which I have done. Now I work a little and then go to the pool. I think the boy may come out with a suntan at this rate, as there is a lot of summer to go before the end of August.
The good things about the pregnancy are the kicks, rolls, punches. I love to feel him move. Also, even though I feel like a whale, I have really only gained 5 pounds at this point. My belly sure looks bigger than that though! If I can hold out at this rate for another 12 weeks I'll be content...but summer is for ice cream, and man do I want it!
Jon and I just got back from a nice long vacation to the Crystal Coast and Outer Banks, and that was just what we both needed. It was good to spend so much time with him. For those interested, Beaufort, NC is a great town to getaway to. Home of Blackbeard the pirate...we had a really nice time there just walking the harbor, eating, and shopping. Perfect place for a romantic weekend. I think we may have held hands the whole time.

Next up is a busy summer of parties, baby showers, and of course, the Country Club Member/Guest weekend. I think by the time August gets here I will be exhausted, just in time for the Hokie football season to kick in!

No trips planned at this point, but still not ruling out something in January. Who knows. Might try to head back to the Outer Banks again in October if all goes well.

Hope everyone is well and looking forward to a nice hot summer!